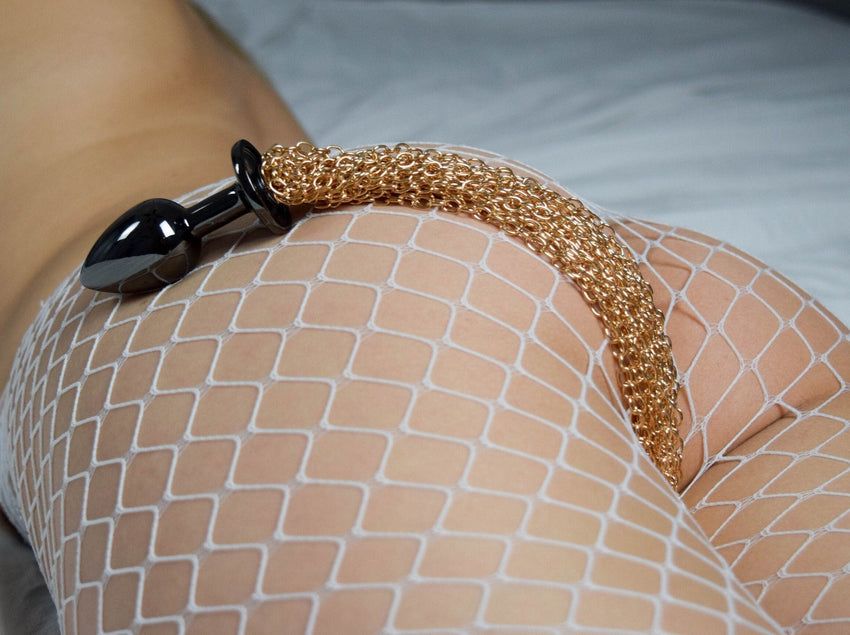 To enhance a sense of mood, there is no better way to do it than with a luxurious gift. This luxurious gold tassel butt plug is extremely useful and practical. It's useful in the bedroom, but can also be used in the bathroom, kitchen, and even in the office. It is even a great gift for those who are just starting out on their path to sexual enlightenment. This is a must have item for all lovers of the sensual.
Available in a range of sizes, these comfortable and stylish plugs are an excellent choice for both beginners and advanced players. The flared base allows for easy insertion and removal. They are super fun and are a easy way to spice up your sex life. The gorgeous 18k gold plated accents add a little something extra to your toy collection. 
U N I Q U E ∙ T A S S E L ∙ P L U G ∙ S P E C S
• Plug Material:
 ∙ Metal Butt Plug
• Finish:  ∙
 Silver or Black
• Tassel Material: 9.5 inches of 18k gold plated chain
• Detachable design via screwing tassel end into the base of the butt plug
• Truly a fun and easy-to-use sex toy
I T E M ∙ B E N E F I T S
•
Imagine how sexy you will feel as this plug compliments the
 curve of your ass, the supple shape of your legs, and, of course, increasing your sensual feeling. These truly display luxury and elegance in and out of the bedroom. Making any princess feel like a real princess!
• Enhance and Invigorate your sex life today!
O T H E R ∙ I N F O R M A T I O N
• Packaged discreetly
• All Items are nicely packaged and ready to gift 
• All orders ship same-next day from 🇺🇸
•
If you have any questions regarding our products, please feel free to message us and we will be more than happy to help!
The team at NaughtyIndulgence
…Now have some fun tapping into your naughty side 💋
- Small Plug -
• Over All Length: 2.75" inches
• Widest point Diameter: 1.1" / 2.54 cm
• Inserted Length: 2.5" /6.35 cm
• Stem Diameter: .35" / .89 cm
• Weight: 1.8 ounces / 50 grams
• Over All Length: 3.0"inches
• Widest Point Diameter: 1.38" / 3.56 cm
• Inserted length: 2.8" / 7.11 cm
• Stem Diameter: .35" / .89 cm
• Weight: 3.3 ounces / 94 grams
- Large Plug -
• Over All Length: 3.5"inches
• Widest Point Diameter: 1.65" / 4.32 cm
• Inserted length: 3.25" / 8.26 cm
• Stem Diameter: .50" / 1.3 cm
• Weight: 4.6 ounces / 150 grams
WE SHIP OUT ALL ORDERS WITH STRESS FREE SHIPPING. NO MORE WORRYING WHAT PEOPLE MAY SEE OR FIND
Every package is guaranteed to be shipped out with no way for anyone to know what's inside. All orders ship out with either unmarked boxes or in Kraft mailers for all mailing purposes.
Most Importantly! no more anxiously waiting weeks for your naughty toys to arrive. We take pride in shipping out all orders the same-next day from our New York Headquarters.