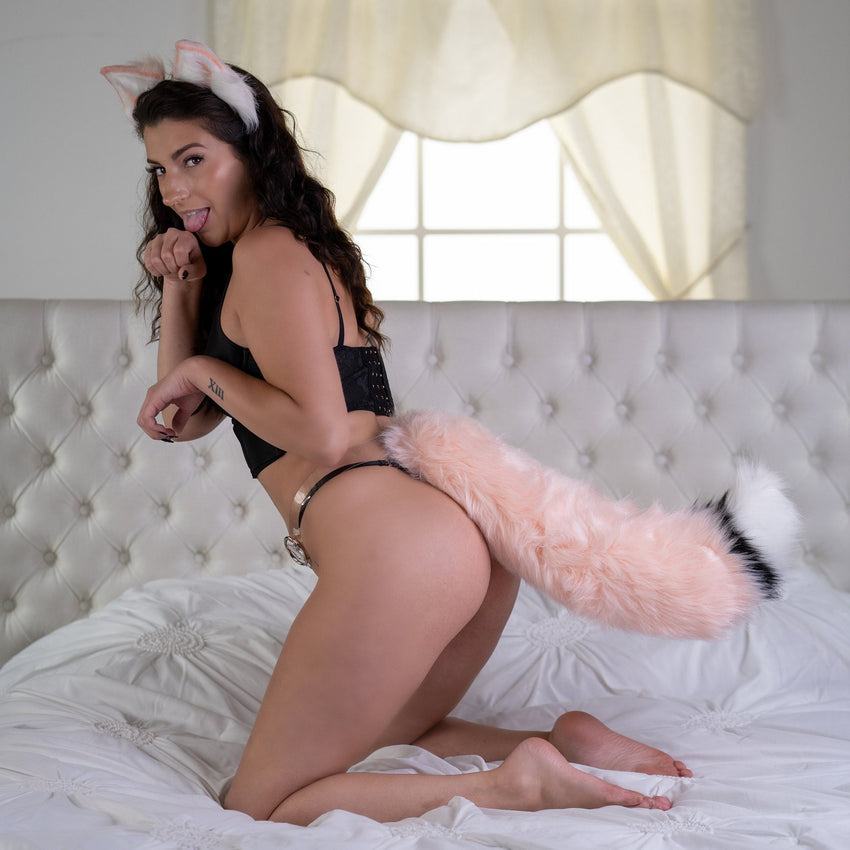 Want the perfect way to add pleasure and excitement to your sex life? With these gorgeous peach, white, and black foxtail butt plugs, you'll have a way to show off your kinkiest side. Displaying sexual beauty on a whole new level and enhancing your sexual pleasure all at the same time. Featuring an ultra-soft, fluffy, durable, and extremely easy to care for tail plug set.
Product Details
Each hand-crafted tail measures 23 inches of soft and luxurious faux fur using the most convenient natural-looking detachable butt plug design. Allowing for easy cleaning and convenience. Available in three plug sizes, all interchangeable with our tails. So upgrading to the next size up is a breeze. Simply unscrew the previous butt plug and screw on one of our larger butt plugs. It's the perfect way to enjoy an intimate and safe play session while enjoying an intense and sensual experience. Suppose you want to see your master or partner's eyes get bigger than saucers just by looking at you. In that case, you should definitely get this beautiful Peach, White, and Black tail plug set.
Materials
• Material: Fluffy Faux Fur
• Tail Color: ∙ Peach ∙ White ∙ Black Accent
• Dimensions: 23 Inches of Smooth and Luxurious Strokeable Faux Fur
• Matching Ears (available) Peach and White bendable and adjustable headband
Why buy from Naughty Indulgence?
🥇Veteran Owned and Operated
🥇AMAZING Customer Reviews
🥇SUPERB Quality Products
🥇TRUSTWORTHY Customer Service