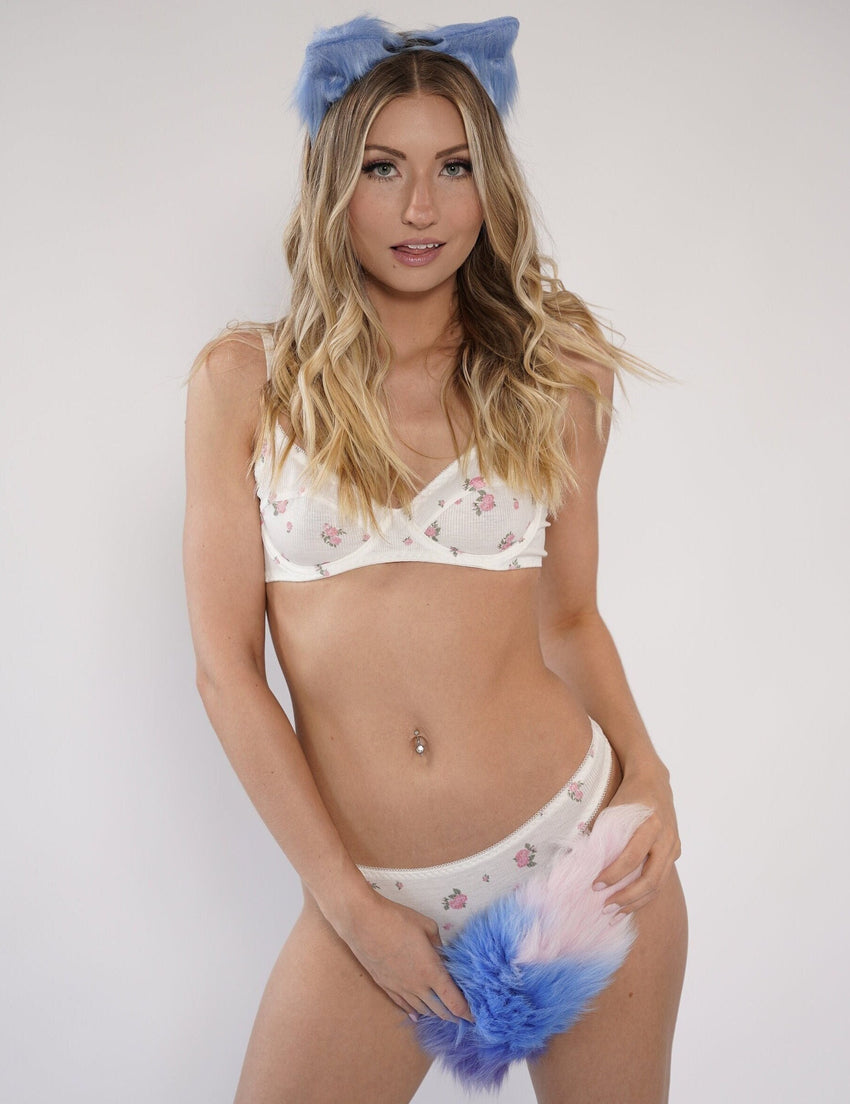 Are you ready to add some magic to your bedroom playtime? Our hand dyed unicorn tail is the perfect addition to your collection. This unique and whimsical tail is sure to bring a smile to your face and some excitement to your behind.
Hand Dyed: Each plug is carefully dyed by hand, ensuring that no two are exactly alike. You'll receive a one-of-a-kind toy that is as unique as you are.
Unicorn Tail: The pink, purple, and blue tail is the perfect length to add some extra stimulation during use. It's also detachable for easy cleaning.
Comfortable Design: The plug is made from body-safe silicone and is designed for easy insertion and comfortable wear. You can wear it for as long as you like, whether you're playing solo or with a partner.
Perfect Size: The plug is just the right size for beginners or those who prefer a smaller toy. It's also great for those who want to add some extra stimulation during vaginal sex.
Don't miss out on the magic of the Hand Dyed Unicorn Butt Plug. Order yours today and unleash your inner unicorn!
F O X T A I L ∙ B U T T P L U G
• Material: High-Quality Real Fox Fur
• Color: ∙ Purple ∙ Blue ∙ Pink
• Dimensions: 17 Inch Tail Length, 20 Inches With Butt Plug of Smooth and Luxurious Strokeable Genuine Fur
• Set includes: Tail, plug and matching ears.
• Tail only listings = Tail and butt plug, only.
** Due to the hand dyed nature and natural fur of this product, please allow for slight variations in color **
H E A D B A N D ∙ S T Y L E ∙ T Y P E S
∙ These Realistic ears are adjustable, comfortable, and can be moved up or down along the headband to fit everyone's head. Handmade using the best quality faux fur around. The durable Alice bands used are also flexible and stretch as needed to comfortably fit everyone.
∙ After shipping, the ears may also look a little flat and out of shape, please fluff them up and adjust back into tip-top shape adjusting the fur the way you like it
* To find the right headband style for you, please click the dropdown menu displaying Size/Options. Then click the different options. The photos are linked to the ear style chosen and shown in the image displayed
∙ Cat Ears - Baby blue coloring front and back