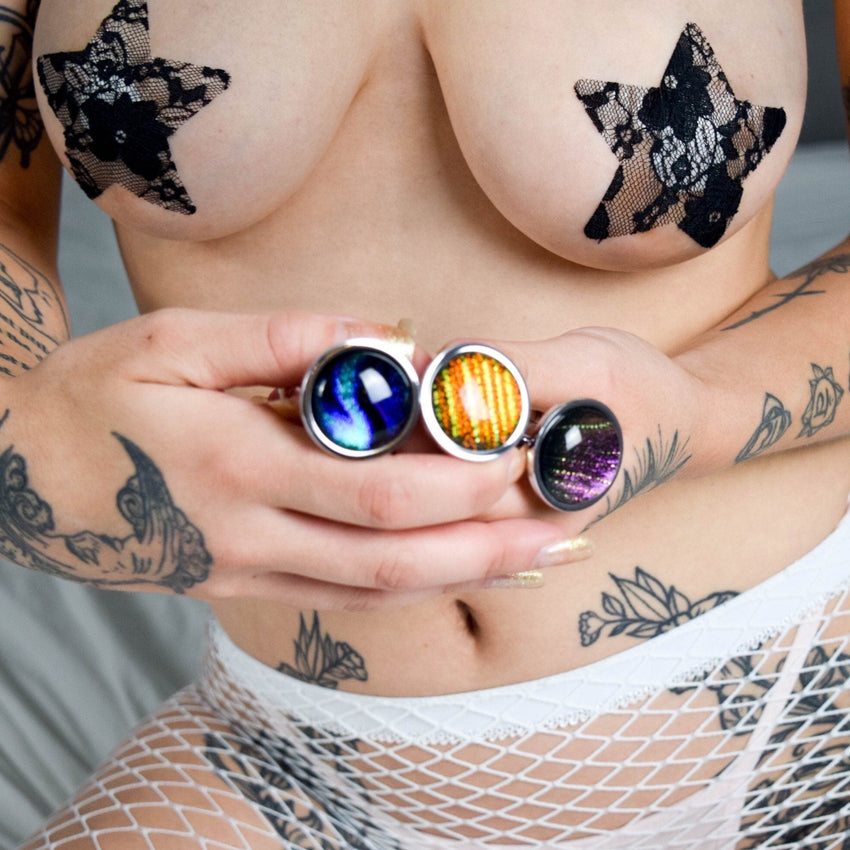 Here at StarsAndStripesNy all of our plugs are assembled by hand and we guarantee perfection in the quality of the plug and the gem. We sand, polish and glue each gem individually which is a critical part most leave out. We don't because we understand beautiful Butt Plugs dramatically display SEXINESS and ELEGANCE and all we want is for our users to feel special and sexy! Our stunning butt plugs will highlight the curve of your ass, the supple shape of your legs, and, of course, that perky little plug-stuffed hole. Your partner or Master will go mad with desire at such a sexy sight.
Available in a rainbow of colors. Pick from three comfortable sizes, whether you're new to anal play looking to spice up your sex life or fully experienced butt plugs are a great addition to your sex toy cabinet.
First-time butt plug adventures are an exciting, yet sometimes nerve-wracking experience, and feeling comfortable while introducing new sex toys into the bedroom is what makes the experience so much fun! That's why it's important to find a butt plug that suits you and your body's needs.
Stainless steel-plated plugs are the ultimate in safe and hygienic sex toys. Stainless steel-plated plugs are simply cleaned with soap and water. No special cleaners are needed or special lubricants are needed. Making them a must-have in the bedroom
*Sizes Available:
Small
• Over All Length: 2.75" inches
• Widest point Diameter: 1.1" / 2.54 cm
• Inserted Length: 2.5" /6.35 cm
• Stem Diameter: .35" / .89 cm
• Weight: 1.8 ounces / 50 grams
Medium
• Over All Length: 3.0"inches
• Widest Point Diameter: 1.38" / 3.56 cm
• Inserted length: 2.8" / 7.11 cm
• Stem Diameter: .35" / .89 cm
• Weight: 3.3 ounces / 94 grams
📦PACKAGED DISCREETLY 100% PRIVACY GUARANTEE
📦FAST SHIPPING, SAME-NEXT DAY
*If you want your item expedited. I offer cheap priority mail services if you choose to upgrade your shipping.
*Your privacy is of our utmost importance. All of our items get shipped out VERY DISCREET. With no weird markings on the packaging of any kind. It will be your little naughty secret and no one will ever know what's inside.
Here at StarsAndstripesNY, we make high-quality and elegant butt plugs, foxtails, and accessories. So please take a look at all of our items available in our shop by clicking this link https://www.etsy.com/shop/StarsAndStripesNY and while you're there add our shop to your favorites, for discounts and new items released.
If you have any questions regarding our products, please feel free to message us and we will be more than happy to help
Much love,
The team at StarsAndStripesNY
…Now have some fun tapping into your naughty side 💋
The Second Hand Vet L.L.C. DBA StarsAndStripesNY will not be liable for any damages for personal injury, property damage, whether indirect, special, or consequential loss, arising out of or connected with the use or misuse of our products.